Load Diversion Wind Turbine/Solar Charge Controller
A complete charge controller ready to go!
Following numerous requests , I am hereby presenting this new revolutionary product in my line of charge controllers. Besides offering all the usual main features and being a complete unit, all that is necessary for you to do is to plug the energy source wind turbine or Solar Panel and battery and off you go .

Eventually, when fully charged, you can use the battery to power your equipment - this can be done with either a power inverter or else simply use the battery voltage directly.
Specifications
Product Information :
Available in 6 Volts, 12 Volts and 24 Volt Versions
Integrated in line low dropout diode
Integrated in line 40 amp fuse
Protection against polarity reversal
In line board fuse
Integrated Dummy load
Optional cooling fan Kit
Integrated tyco Heavy duty relay - 120 Amp
4 Position battery / turbine connector
Two control switches to cycle thru charge and dump states
Two Leds to show current state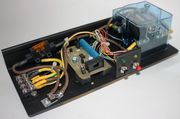 A turn key solution
Price:
174.99USD